Our Books for Dyslexia
Bulk rates for books are available to schools and tutoring companies.
Create an account as a School Admin, then go to your Admin Dashboard and select the option to "Get a Bulk Book Quote".

Orton-Gillingham Based Workbooks for Dyslexia
Chapter Books for Struggling Readers
See our FAQ for the Workbook Reading Programs
I Can Fly

®

Reading Program - Ages 5 to 7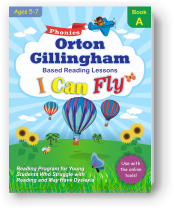 These books are part of the I Can Fly Reading Program, a program for any young student (ages 5 to 7) who is just learning to read, especially those who may be dyslexic or who are not grasping the concepts of reading and writing (spelling) when compared to his or her peers. This is also a wonderful resource for children who have speech delays, auditory discrimination issues, auditory processing disorder (APD), down syndrome, Autism Spectrum Disorder (ASD), as well as other communicative problems.

Use these books along with the web-app for the multisensory component to reinforce what was taught.

Whether you're homeschooling, supplementing your child's schooling, or getting a jump on reading skills, this program will get your child reading!

The I Can Fly Reading Program will start with the very basics, letter recognition, and progress through many of the sounds and rules. This program is comprised of two lesson-based workbooks and a web app that has games and rewards that a younger student would love.
Check out the reviews!
Already own the book(s)? Get the web-app for this program at 60% off the app's listed price!
*The black and white books follow the same scope and sequence as the color books, however, the exercises are not identical.
If you are teaching to a class or teaching remotely, our I Can Fly PREMIUM web-app, contains lesson slides so that the books are not required, however books are recommended as supplemental worksheets.
Blast Off to Reading!

®

Reading Program - Ages 7 to 13
This book is an Orton-Gillingham based reading program for students, ages 7 to 13, who struggle to read and has, or may have, dyslexia. This program is also helpful for children with communicative issues, auditory processing disorder (APD), auditory discrimination problems, and other learning difficulties.

The 50 lessons will walk you through the process of teaching your student to read and spell. It is cumulative, systematic and explicit. It has short exercises and word lists, for reading, and dictations for spelling. The text is colorful and large, an answer key is included, and the back cover contains our phonics reference chart, for quick a review or reference. This program will guide you, step-by-step, no training needed, and there's little to no lesson planning.
$39.95
Includes the app!
Check out the reviews!
* Watch the video below to learn about Blast Off to Reading! *
A Workbook for Dyslexics - Ages 13+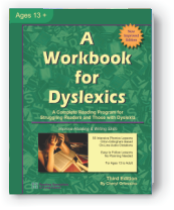 This Orton-Gillingham based program contains 55 complete lessons that will gradually teach your older student to decode and spell words using phonics, rules and memory cues. These easy to follow, scripted lessons gradually build up to the next topic, offering repetition for reinforcement. Being based on the well-known Orton-Gillingham method for overcoming dyslexia, this program is effective; your student will be well on his or her way to reading and writing within a short time.

This reading program is perfect for older students and adults who have dyslexia. It does not contain pictures or phrasing that an older student would find insulting. It does, however, contain larger text (16 point - Arial) to accommodate side-by-side instruction. An online web-app, which can run on any device that supports a browser, is available. It contains the program flash cards, the letter tiles tool (with the sound chart), and the audio dictations, for spelling.
$29.99
Get the App
Note that if you have the book, you can get the app for free.
Use Promo Code HaveBook at checkout. You will be asked for a code from the book, when you open the app.
Just the Facts! Grade 3 Math Workbook Curriculum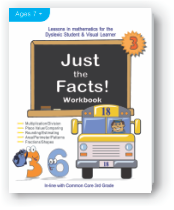 Just the Facts! Workbook #3 is perfect for students who have mastered addition and subtraction and are ready to learn multiplication, division, and many other math related topics that include these operations. This workbook, 8.5" x 11", has 45 lessons (247 pages) that, like our reading programs, easily walks you through teaching your student math, it's cumulative with repetition. It also utilizes pictures whenever possible to illustrate a concept. Each lesson is done with the student, side-by-side, followed by 1 to 3 pages of independent work.

What makes this math curriculum different than others is that it repeats older material, so concepts are not forgotten. It is also different in that it is designed specifically for visual learners, utilizing many visual aids.

This curriculum is in-line with common core for third grade; the grade in which teachers and parents often start to notice their students struggle with math, especially the students who have struggled with reading and/or may have memory difficulties.
Colorful Images
Colorful images to illustrate important mathematic concepts.
Visual Cues
Whenever possible, visual cues are given to help the visual learner understand and remember the concept.
Organized
Problems are presented in an orderly manner to help eliminate confusion and promote good habits.
Exams & Quizzes
Difficult Math Facts Use Stories
For difficult multiplication facts, where skip counting is not easy, we use simple math stories with an image. These stories help the student quickly recall the math fact. For example, this image shows 3 and 6 taking bus 18 to school.
Watch the video to learn more!
$28.50
* bulk rates available *
Just the Facts! Math Stories
The Easy Way to Memorize Those Hard to Learn Math Facts
Also available are Kindle slides as flash cards for the mulitplication fact stories that are taught in Just the Facts! Workbook #3. Use on any device that supports a browser using Amazon's free Kindle app. Get the Kindle App.
Only $3.50
Chapter Books Made for Struggling Readers
These chapter books are for children who struggle to read and may have dyslexia. Our books are designed to foster independent reading, having a story to interest older children, yet with short sentences and paragraphs with simpler text. Eliminate the frustration of learning to read and show your child that reading can be fun.
Get the comprehension worksheets.
$8.75
The Adventures of Max and Liz - Book 1
8-12 years, 5000-6000 words
Flesch–Kincaid Grade Level: 2.0
paperback, 108 pages
Sister and brother team, Liz and Max, with their friend Jack, explore the woods to find a neighborhood secret. Tucked in the woods sits an old shed, with many treasures that are over 100 years old. Join them on this adventure as they learn about an old story that is tied to the farm that is across the street from Max and Liz's house.
Get the comprehension worksheets.
$8.75
The Adventures of Max and Liz - Book 2
8-12 years, 5000-6000 words
Flesch–Kincaid Grade Level: 2.2
paperback, 110 pages
Sister and brother team, Liz and Max, with their friend Jack, find something special in the old shed. A trap door! They learn about how root cellars, used in the olden days, were used to store vegetables. But now there's trouble when the quad kids take over the shed. When the shed is torn down, there's more trouble when the quad kids blame our trio.
Get the comprehension worksheets.
$8.75
The Adventures of Max and Liz - Book 3
8-12 years, 5000-6000 words
Flesch–Kincaid Grade Level: 0.8
paperback, 89 pages
A strange noise in the woods leads Max and his friend Jack to find a little monster! The monster, a scared kitten, soon wins the hearts of the club house gang, but trouble ensues when the kitten is taken by a big quad kid. Read how the club house kids get the kitten back!