A Complete Orton-Gillingham Program for Dyslexic Students Ages 7-13
This is the most affordable Orton-Gillingham reading program available!
Improve reading in just a few weeks!
Launch your struggling reader to reading success!
Evidence Based
This program is based on the Orton-Gillingham (OG) approach, which is in alignment with the science of reading. The OG approach has had many studies and research reviews which provide support for its effectiveness. In addition, studies related to the science of reading, by numerous contributors, have added a better understanding of how children learn to read, resulting in more effective instructional practices. Blast Off to Reading incorporates the recommendations (as done in the OG approach) for an effective reading program backed by research. Read more about the relationship between the science of reading and the Orton-Gillingham Approach.
Easy to Use, Step-by-Step
Blast Off to Reading contains fifty lessons with five review lessons. The lessons will walk you through the process of teaching your student to read and spell. This is done systematically with short workbook exercises followed by online games and tools.

The ease of which this program can be implemented ensures that just about anyone can do it (note that we do feel that instructors should share the same accent as the student). Parents, older siblings, grandparents, as well as hired tutors or teachers can all easily use this program.
Designed & Tested by Educators
This is a reading program specifically designed for dyslexia. It was created, changed, and tweaked with the help of many students and educators. We saw what worked and what didn't and created a kid-friendly program that would be effective and enjoyable. Today, Blast Off to Reading is used by many schools in the United States and Canada, as well as by homeschoolers and parents. It is for students, ages 7 to 13, who are dyslexic or who simply struggle to read and spell. This is also very helpful for children with communicative issues, auditory processing disorder, as well as auditory discrimination problems.
Quick & Effective
Studies show that the faster an intensive reading program is implemented, the more effective it is. Therefore, the goal of this program is to get your student reading as quickly as possible. If done daily, it could be completed within three months (for most students).
Kid Approved
We understand that learning to read is hard work for these students, so we aim to make it as enjoyable as possible. Students appreciate the short lessons and short exercises, and they love the online games which reinforce what was taught. We believe this is why we often hear the comment that this was the program that finally worked.
Our Web-Apps Make Learning Fun!
The Teaching Tools
Flash cards for review, letter tiles for interactive demonstrations, and audio dictations for students' independent spelling practice.
The Fun Activities
Fun phonics games for lesson reinforcement. Your students will love earning coins as they practice what was taught. Coins can be spent on fun activities in the "Fun Zone"!
Fun phonics games for lesson reinforcement. Your students will love earning coins as they practice what was taught. Coins can be spent on fun activities in the "Fun Zone"!
The Rewards that Kids Love
In the "Fun Zone", students can spend their earned coins in several stores. They can play games in the arcade, create a train layout with a working train, or create a farm where they can feed their animals.
All You Need is the Lesson-Based Workbook & the Web-App
This full color book includes all lessons and exercises to guide you through the process of teaching your child to read. Simply follow the step-by-step instructions. Use this book with the on-line web-app for a complete multi-sensory, Orton-Gillingham approach.
See our reviews on Amazon!
Important Links for This Reading Program
For detailed reading program instructions,
click here.
For the answer key,
click here.
For the dictations lists,
click here.
Attention Teachers!
Teaching a class or teaching remote?
We have the tools you need! Use the lesson slides app with a Smart Board to present the lessons to your class. We also offer economical student workbooks, which contain the program's exercises.

If teaching remotely, use the lesson slides with our Blast Off to Reading Premium PLUS app, which includes the workbook's exercises, so a book is not needed.

Economical Student Workbook
This book is 181 pages, black & white interior. It contains only the student exercises and is priced so that every student in your classroom can have their own book. Use this book with the lesson slides app, to present the lessons using a Smart Board in a fun, interactive manner.

Note that you will also need to purchase the Blast Off to Reading app for each student.
$13.25
Blast Off to Reading Lesson Slides
Over 1500 lesson slides with colorful illustrations that will hold your students' attention. These slides contain all program instructions and will walk you through the program, step-by-step.
Finger Pointer & Draw Feature
Turn the "finger pointer" mode on so your students can see what you're pointing at. Also, you can turn the "draw mode" on, to draw on the slides.
Finger Pointer & Draw Feature
Turn the "finger pointer" mode on so your students can see what you're pointing at. Also, you can turn the "draw mode" on, to draw on the slides.
Blocker Cards
Turn on the "blocker cards", so you can block out letters, to isolate certain sounds. This is very useful when students need help decoding larger words.
Watch the video to learn more!
Teaching remote? No Book Needed!
Our Premium PLUS app has all the great features of our premium app, but with the exercises included. No book needed!
* The lesson slides app must first be purchased in order to purchase this premium PLUS app.
This premium-PLUS app includes all the exercises that are in the book. Your student will be able to draw on the pages, which can be viewed via screen sharing programs, such as Zoom.
Also included is the finger pointer feature. Turn this mode on to see the finger pointer.
Now you can teach remotely with ease, and not have to worry about supplying your remote student with a physical book.
Get the Premium Plus Web-App
* The lesson slides app must first be purchased in order to purchase this premium PLUS app.
Dashboards for Different Roles Makes Managing Easy!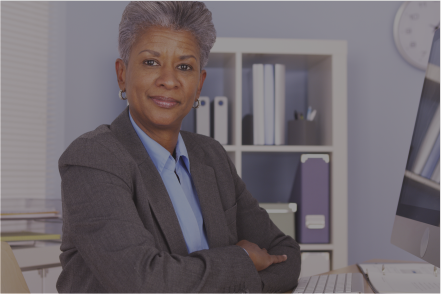 School Admin
Overview Tour
Teacher/Parent
Overview Tour
Your Student's
Experience Tour
Your Admin Dashboard has all the functions you need to keep track of your purchases and teacher assignments.
1 / 7
To get started, create your "Teacher List".
2 / 7
Once teachers are registered you can assign the items that you purchased.
3 / 7
To assign a license to a teacher, simply select the link next to the item's name.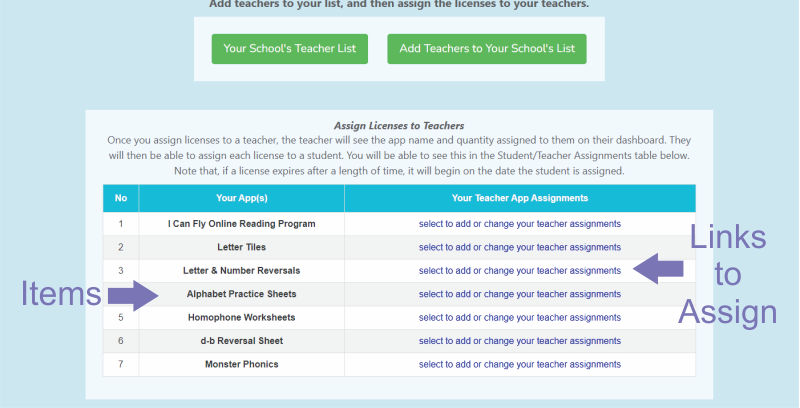 4 / 7
Then select the teacher's name from the drop-down list, and assign a quantity of licenses. The teachers will be notified by email so they can get started!
5 / 7
Once your teacher activates a license by assigning it to a student, you'll see everything on your Student/Teacher Assignment table. This way, you'll know what's being used and when a license expires.
6 / 7
7 / 7
❮
❯
First, create your class.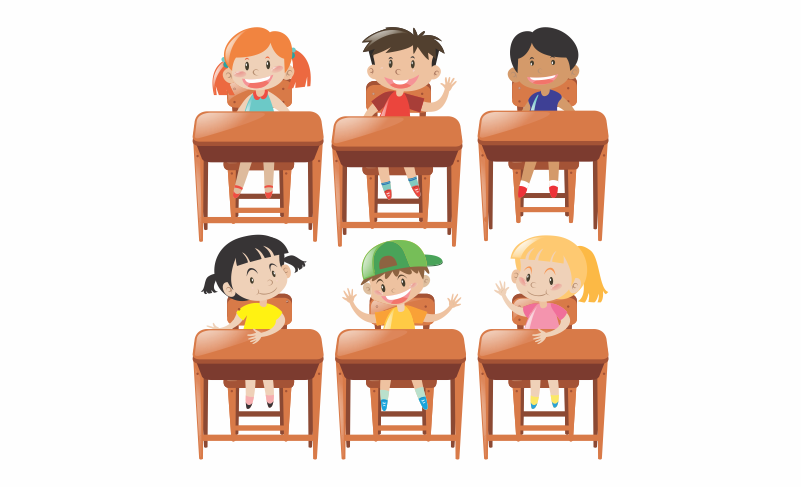 1 / 15
From your dashboard, you can add students to your classroom.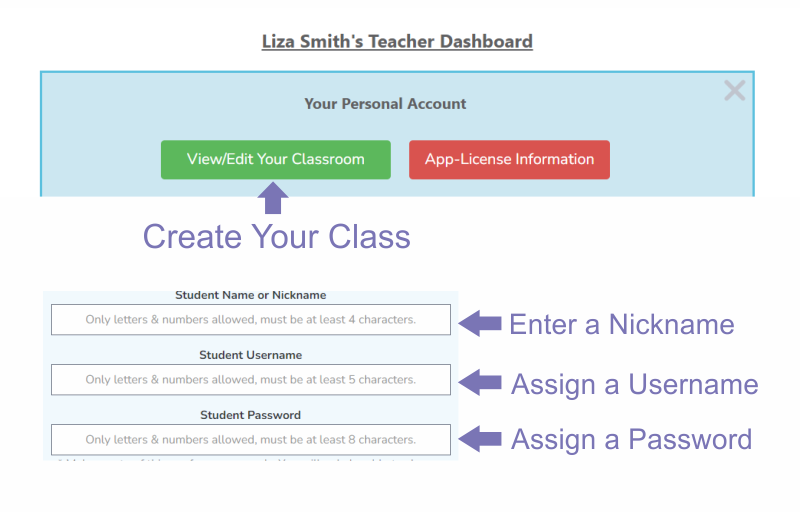 2 / 15
You can easily see and edit your class. You can also award coins to students as an incentive.
3 / 15
Next, assign students to the apps that you purchased.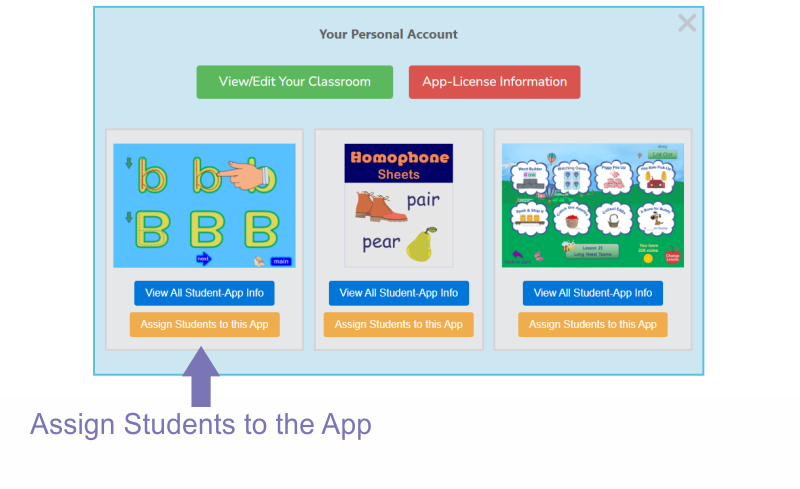 4 / 15
Select your students from the pull down menu.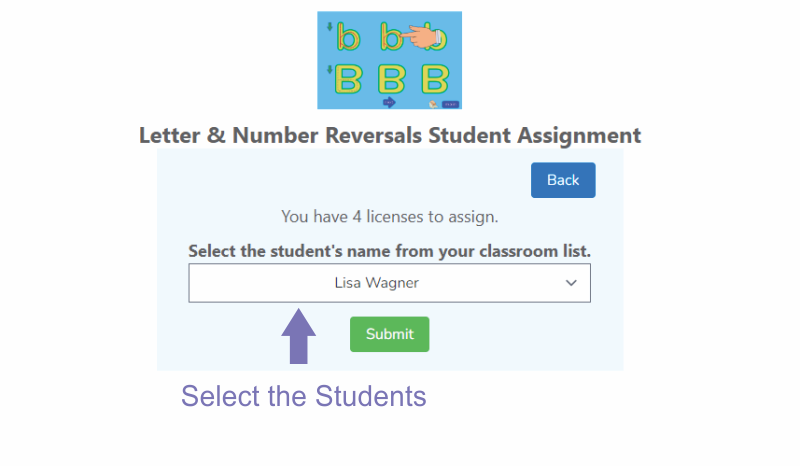 5 / 15
When done, you can view your student list for the app.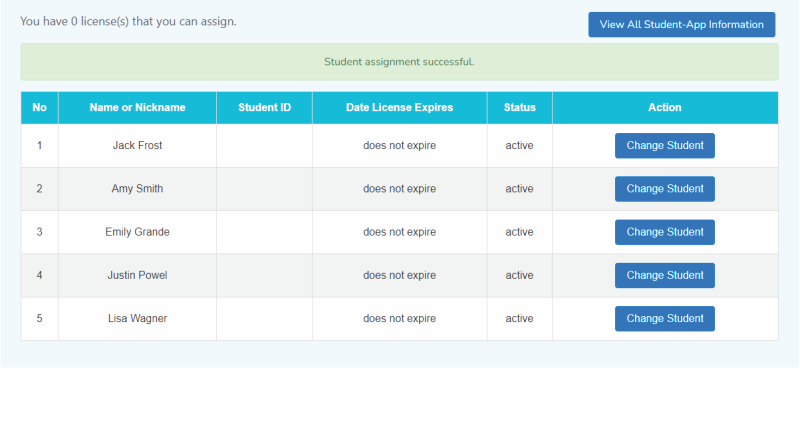 6 / 15
To teach, select the Web-App or PDF from your dashboard...
7 / 15
... and teach!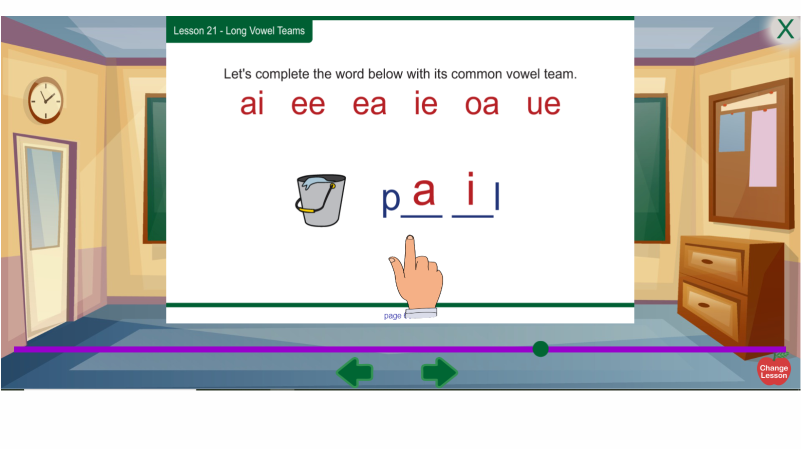 8 / 15
Some Web-Apps collect student data so you can see their progress.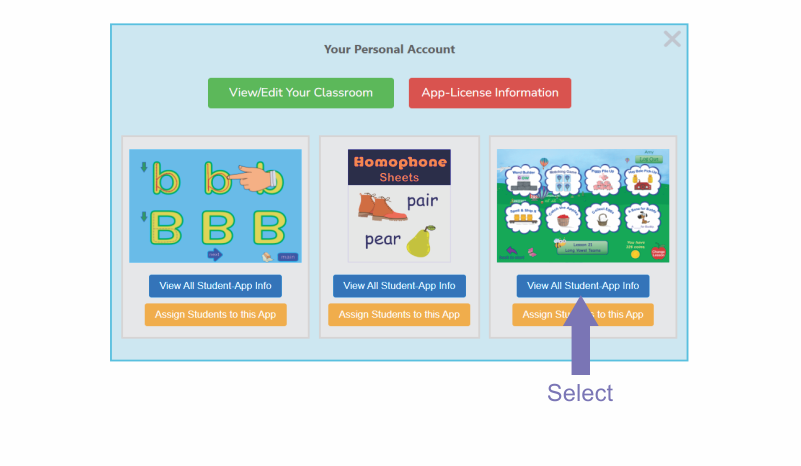 9 / 15
From the Student-App Table you can see students assigned to the app, their expire dates (if the app expires), and the "Show Progress" button.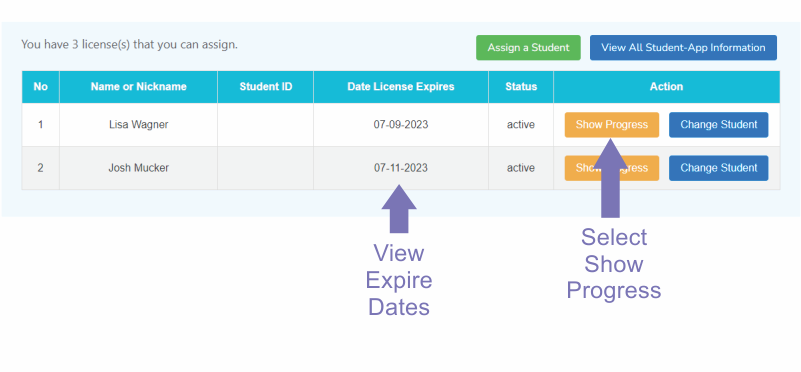 10 / 15
See exactly how your students answered questions.
11 / 15
If you're a teacher who is affiliated with a school that purchases our items, you'll also see all your assignments on your dashboard.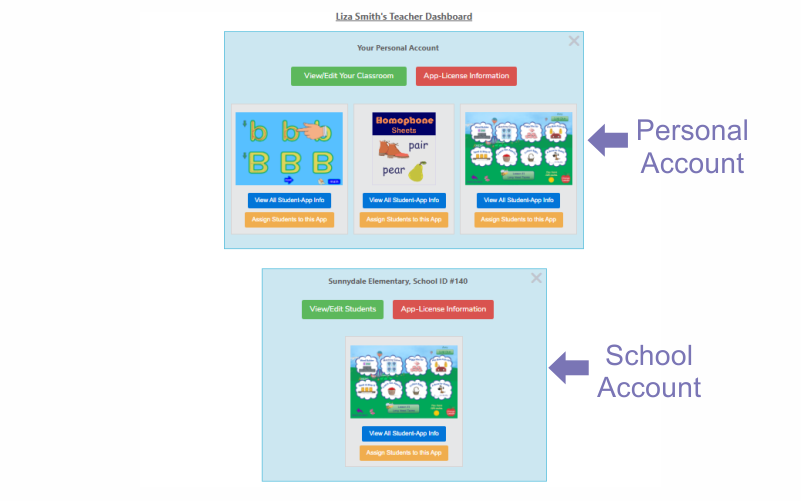 12 / 15
Our online programs & tools make using a Smart Board easy for presentation.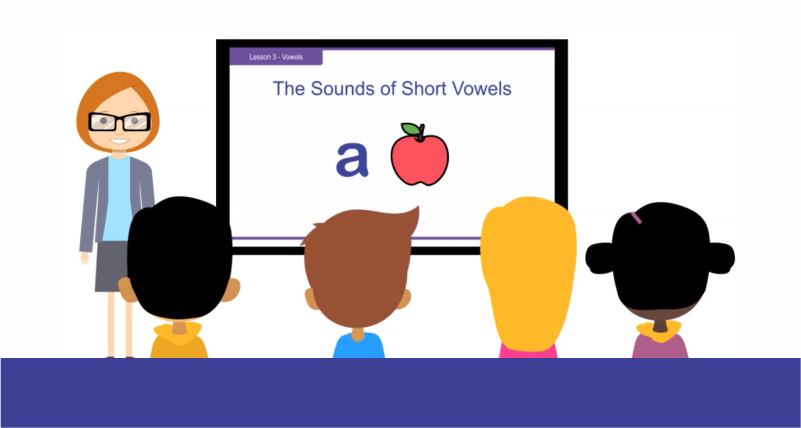 13 / 15
And remote teaching is now seamless.
14 / 15
15 / 15
❮
❯
Once you have added your student to your class, they can sign in on their kid-friendly login page.
1 / 10
The student dashboard is a fun place where your student can select a Web-App or PDF that you assigned.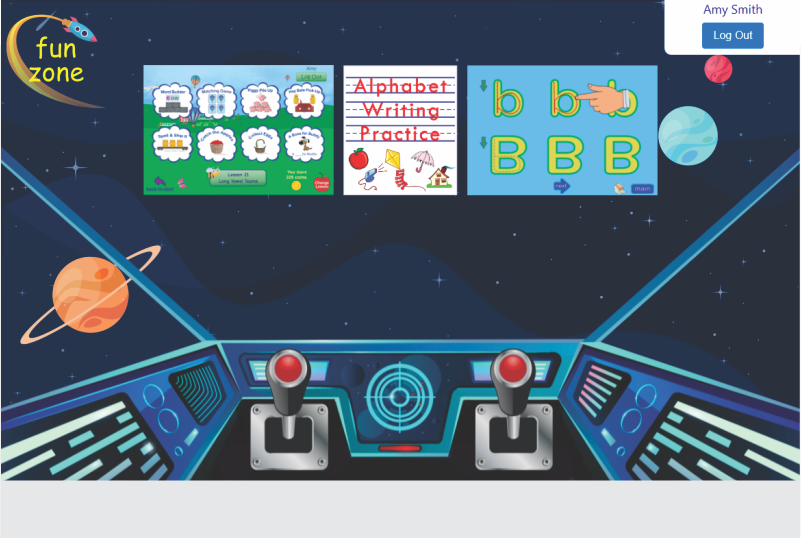 2 / 10
Here they easily play the fun games to reinforce your lessons, earning coins as they play!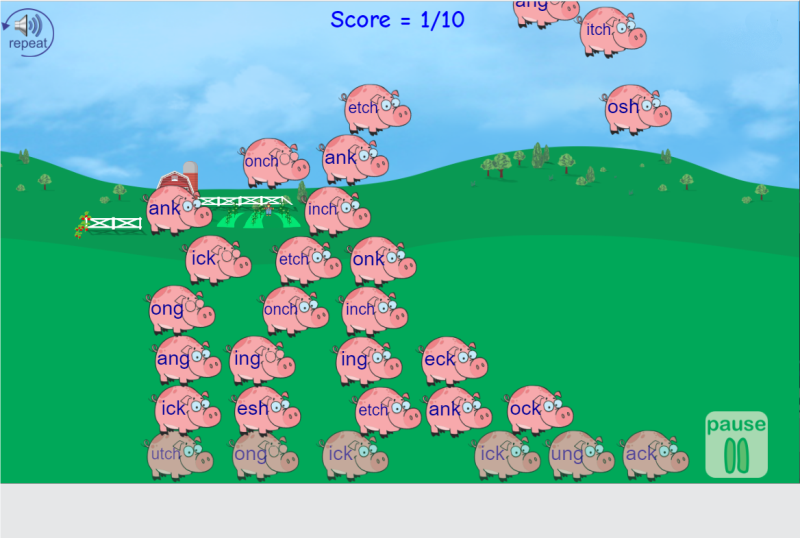 3 / 10
They can visit the "fun zone" to spend their earned coins.
4 / 10
They can create their own farm,
5 / 10
purchase food to feed their farm animals,
6 / 10
and purchase items for a train layout.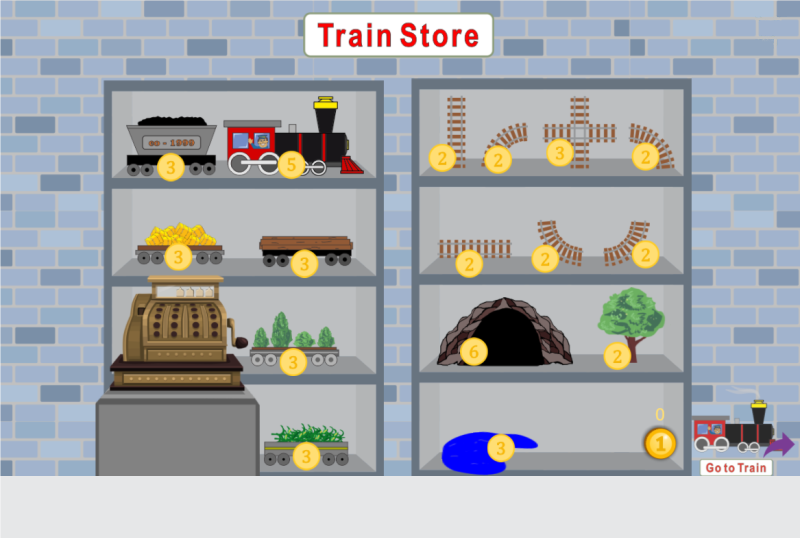 7 / 10
The train will run along the track layout that your student creates.
8 / 10
There's also an arcade with fun games to play!
9 / 10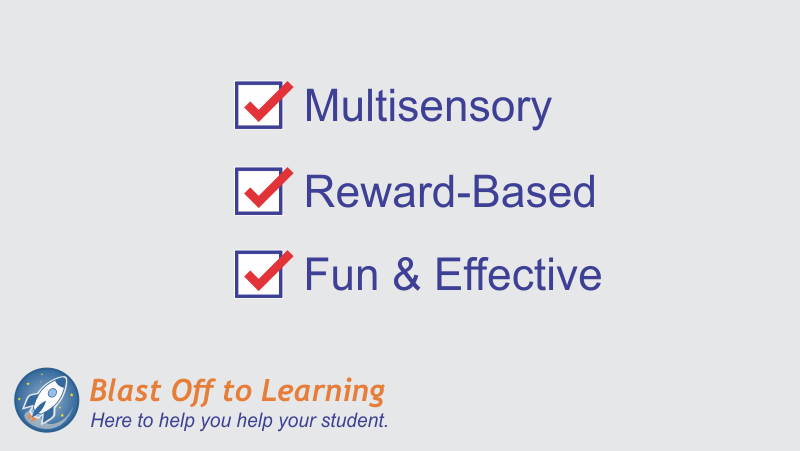 10 / 10
❮
❯
Step-By-Step Instructions
No Training Needed
Multisensory
Effective & Fun
Testimonials
"Last year a fellow colleague introduced me to the I Can Fly Reading and Blast off to Reading program. Since then I have recommended it to everyone working with students. I use the app daily to reinforce the lesson plans in the book. My students have their own workbook that they enjoy using. The app gives my students endless practice. I don't know what I would do if I didn't have it."
Deanne Lakatos - OG Practitioner
"Blast Off to Reading is an amazing instructional tool that I use with students. The lessons help my struggling readers focus on letter/sound relationships, vowels, etc. The games, especially the b, d reversal games, really help and are so enjoyable my students forget that they're learning at the same time!"
Dawn Campbell - ME and also working toward OG cert.
My son has dyslexia and has struggled with reading. I have tried several programs and so far this has been the best one! The games make the program engaging and fun while learning how to read. I am now having my other son do the program as well just to solidify the foundations. Great program. Thank you for caring about those that struggle and finding new ways to learn.
- A very thankful homeschooling mama."Micheline Garfin
"This has been a helpful resource for students to gain access to practice activities that are meaningful and short. They are set up to teach the most critical skills in a timeframe and with features such as games that hold student's engagement as well as target foundational skills."
Allison Verschueren - Teacher, BS, MsED, NBCT
"I homeschool my kiddos and this program has worked very well for both my kids. My oldest was hardly reading when she left grade 4, she is now and avid reader after using this program."
Melissa Dopheide, Parent
"It's a great resource. Kids and teenagers learn easily with this program. As a learning specialist I can observe their improvement in reading and writing daily. I surely recommend every program!" Paola Castro, ME
"I have been using the I Can Fly and Blast Off to Reading workbooks for years with amazing results. This year I finally tried the online resources to use with my online clients during cover 19 and absolutely love them and so do all my clients!!"
Samantha Tremaine - Master's in Childhood Education, Orton Gillingham Trained
Our web-apps run on any device that supports a browser.
Apps run on Chrome Books, iPads, PCs & Macs, and even smart phones!
Physical Phonics Games & Tools to Supplement Your Teaching
Take a break from the screen and use these fun card games and teaching tools .